Mexico: Cancun
July 25 – 29, 2003
Sudha and Raje– Celebrating 21st Wedding Anniversary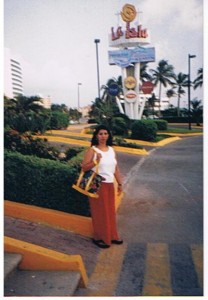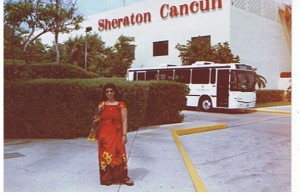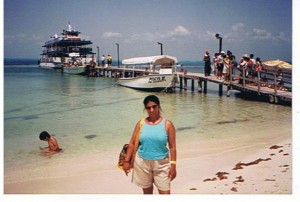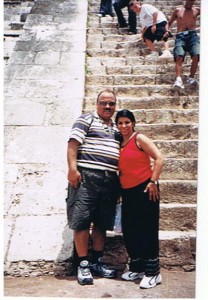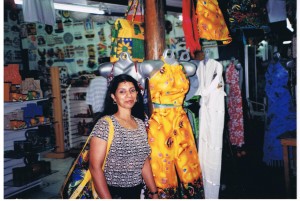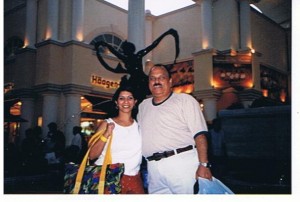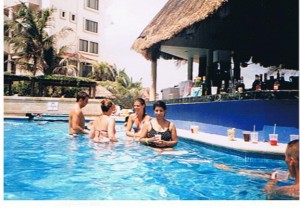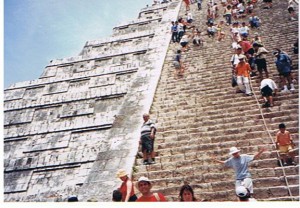 Mexico at a Glance: * History – Aztec Empire/civilization (16th century) *Toltecs – war-like tribe *Independence: September 16, 1810 (from Spain) *Native Indians (live in the mountainous state of Chiapas) *under Spanish rule was called New Spain *Conquistadors destroyed Maya and Aztec pyramids and temples, considering them profane *Texas was also part of New Spain *Colonists from the US began pouring in and by 1835 outnumbered the Mexicans four to one *Under the political domination of Santa Anna of Mexico, Texans seceded from Mexico and declared independence in 1836 *Alamo (a sanctuary mission where Texans took refuge to hide from Santa Anna) * Incorporation of independent Texas into the U.S. gained support, severing US/Mexico diplomatic relations. *1994 – politically turbulent period – Indian guerillas led by Marcos occupied several towns in the mountainous undeveloped state of Chiapas, demanding self-rule for their communities *Following this turmoil led to devaluation of currency, the peso dubbed the Tequila Effect, monetary crisis sent shock waves throughout Latin American financial markets – sending the country in deep recession *Music – Tejano (popular in Texas) – Salsa – Cumbia – Meringue *Food – Corn (centerpiece of Mexican diet), Beans, Rice, Salsa, Tortilla, Taco, Enchiladas *Holiday – Cinco de May – Mexican army victory over France *Economy – leading industries – oil, tourism, textiles. NAFTA (1992) signed by Bush to spur ecn growth, remove trade barriers.
Cancun: *Location – Eastern most region of Mexico in Yucatan Peninsula's Caribbean coast, surrounded by Gulf of Mexico and the Caribbean Sea. *Resort – metamorphosis from fishing village to vacation paradise, once home to the ancient Maya and later a refuge for pirates – In 1970s, Cancun (Mexico's most popular tourist destination) did not show up on maps, now an upscale tourist spot – opened in 1974 – part of Mexico's building boom of 80's *15 mile Zona Hoteleria *Gambling casinos are illegal in Mexico, but no shortage of nightclubs, like Mango Tango, Coco Bongo, Daddy O's, Barely Elegance *Kulkucan Blvd – main road, runs the length of the Cancun island *Cancun Int'l airport – 6 miles from Cancun island.
Chichen-Itza: *Location –in Yucatan Peninsula 4 hrs bus ride from Cancun *What is – Temple (ceremonial, religious, political and cultural center of the Yucatan, Mayan center built like pyramid) built by Mayans –vast Maya empire, first centered in Guatemala and the state of Chiapas, spread north to Yucatan Peninsula by 7th centr – cover almost 4 square miles of area *Logic Behind Architectural Design – different than Egyptian pyramids – square base with four sloping, triangular sides meet at the top – great acoustics built to serve different congregations gathered at the foot of the temple – decorated with carvings of human sacrifices. Each of the 4 sides of the Pyramid has 91 steps; total of 364 steps plus the top platform, equaled the # of days in the Maya year. An additional steps underneath the pyramid, the 365th step, signified a trip to the underworlds. Each side has 18 terraced sections, nine on their side of a central staircase equaling the 18 side of a central staircase, equaling the 18 months of the Maya year, and 52 panels, corresponding to the number of years in the Maya calendar cycle – an architectural perfection built into the Jungles of Mexico, Guatemala without metal tools, * History – Mayans, brilliant civilization, mystical & religious people, thrived bn 250 and 900 A.D. *Accomplishments – cleared jungles and swamps, made underground reservoirs to store rain water – ruins of pyramids, palaces and temples bear witness to the highly developed skills of the Maya, developed a calendar that enabled their priests to predict eclipses and plot the movements of the solar system, writing system, built cities that functioned as hubs for surrounding farming towns. During their magnificent reign of the Yucatan, built the beautiful buildings of Chichen Itzá – through human sacrifices communicated with gods *Collapse – Civilization collapsed in 10th century (overpopulation, damage to ecological balance).
Isla Mujeres: *Location – tiny island shopping village 4 miles off the Yucatan Peninsula. *History – In 1517 Hernandez de Cordoba sailed from Cuba to bring back slaves – landed on southern part of the island and found a Mayan stone temple and figurines of woman – the goddess of the country lxchel and her daughters lxhunieta – only clothed from the girdle on down – with rights, bestowed upon him by the King of Spain he christened the Island "Isla de Ia Mujeres".
Our Trip:
Going to Cancun: After receiving the much awaited visa, we left for Mexico on July 25, 2003 by Delta, with a 1 hr 15 minute flight to Atlanta's Hartsfield Int'l airport to Cancun Int'l airport (2 hrs from Atlanta). Atlanta airport is a large int'l hub, with attractive Martin Luther memorabilia artwork. With a short ride by underground metro to concourse D, we were on our way from Atlanta to Cancun. Both of our Delta flights were 'no-frill' flights, without any meal service. Arriving in Cancun: We arrived at Cancun int'l airport and were quickly surrounded by travel agents and vendors, ready to sell us everything from souvenir post cards to real estate. No matter how much we tried to escape them, but the travel agent from Moon Palace followed us and enticed us with, free tours for Chichen Itza, Tulum and the Isla Mujeres, for a $40.0 refundable deposit. We only needed to take a 90 minute tour the next day. A short ride to the shuttle brought us to our Sheraton Cancun hotel.
The first evening: Having arrived late afternoon, spent the rest of the day, getting acquainted with the vicinity of the hotel, across the street to Isla Plaza, an upscale shopping plaza, like all the other plazas in Cancun, with nightclubs at every corner, restaurants offering Mexican and American food, right on the plaza was a lively aquarium and a place for Maya Aventura. After eating at the Johnny Rockets (an American place) we toured around the area and returned to our hotel. Later in the evening, we took a local bus to Flamingo shopping mall (6 pesos ride), walked around the shops, lots of vendors selling food, a festive place. You could just sit in the courtyards, and catch traditional dance show outside most restaurants. This place was full of restaurants and nightclubs, Hard Rock Café, Rainforest, Coco Bongo, Bear Elegance. The line outside Coco Bongo was extremely long, being rated the #1 disco in Latin America, we crossed over to another club in the walking distance, 'the Divas'.
Day 2: With the all paid taxi, compliments of the Moon Palace (the time-share deal), we were on our way to the Moon Palace – after breakfast and a 90 minutes tour – we had earned 2 tickets to the archaeological sites as well as 2 tickets to the Isla Mujeres, plus the bonus – an all inclusive day pass which could be used at Moon Palace, Beach Palace or the Cancun Palace, with entry into any of their restaurants, all you can eat/drink plus the pool facilities. This was too good to be true! At the Cancun Palace pool we also caught the Mayan show of the gods (rain gods) and enjoyed the pool activities, the pool bar, with live music, sitting on the bench seats inside the pool where our drinks were served to us. A short local bus ride brought us back to Sheraton, where 2 guitarists just hoped on the bus and began playing music and singing, passengers, including the bus driver seemed to be enjoying and no one seemed bothered by this invasion.
Day 3: We began our day with a tour to Chichen Itza, the place of the archeological ruins and pyramids of the Maya people, a 3 hour coach ride from Cancun. The Yucatan Peninsula's most visited ruins, are the remnants of a great MAYA city and one of the archeological wonders of the world (two of the wonders of the world are
decaying and may not last very long, the Lighthouse of Alexandria, and the City of Babylonian). The
pyramids were about 200 miles from Cancun, 100 miles of highways (autopista) , and 25 miles of 5
Mayan villages, the trip gave us an opportunity to observe the Mayan life on our way to Chichen Itza. The land is declared Homstead, meaning the resident do not have to pay for the land, provided they can grow crop for 5 yrs. After a short stop at the shopping pueblo, we arrived at the historical pyramids of the Mayas, the Chichen Itza. We both climbed the 91 steps up and down, reached the top , took photos, and climbed back down, being careful coming down sideways, often sitting down on the steps to avoid feeling dizzy. According to the legend, one achieves cosmic energy by climbing to the top (connection with Luna the moon). The guide told us that Mayans do not represent the true Mexicans, in fact Mayans can't officially carry the Mayan names, so our bus driver's official name was Antonio and his Mayan name was something else. Mayan is the most native language in the world. During lunch, we saw a traditional show of the little girls and boys, dancing with empty bottles on their heads, pretty amazing.
Back in Cancun – Dinner at Mango Tango: Our dinner reservations were at Mango Tango to celebrate Raje's birthday, this was an amazing place. They welcome the guest by ringing a bell, and the sitting patrons, applaud. We were seated by the lagoon, a picturesque sight. A waitress dressed in dance outfit stopped by at our table and introduced us to a Cuban drink which she would make in front of us. The dinner was great, with Caribbean entertainment, fire dance, rope tricks, and carnival style dancing. They brought cake, and sang birthday song, a was a great birthday celebration. Then there was dancing on the stage, everyone joined, made a train, and danced with balloons. Unique to this place was that, they pour tequila in your mouth as you go through the circle in the dance train, a real taste of the island!
Day 4: Day trip to Isla Mujeres: Before starting for our day tour, we headed to the beach to catch the sun rise, a spectacular sight, then we headed to Isla Mujeres – a tiny island 4 miles off the Yucatan Peninsula. We caught the ferry from Puerto Juarez outside the restaurant Fat Tuesday, which was booked by Sun Tours, with access to the local public beach. About 300 passengers boarded this Carnival Cancun ferry, a festive boat ride, with music, dancing, drinks, all on the house. With one stop at Isla de Tortugas (island of the turtles) featuring an Aquarium with young and mature turtles (black and green). This was our lunch stop, we lined up for buffet lunch with the longest lines ever seen for food. After lunch the ferry headed to Isla Mujeres, this turned out to be a shopping town, with over 300 souvenir shops, enjoyed the cool lemon ice cream there. We were back on the ship this time on the ship were all kinds of games and bear drinking contests and of course the cumbia dancing. On our return to Cancun, we hoped on a local bus that took us to a place where the locals shop, we ended up discovering a Wall-Mart there. This was a huge Wall Mart with everything, fruits, vegetables, bread being made on the premises, internet cafes, souvenirs, we picked up some souvenirs there.
Day 5: Time to witness the sunrise: we got up early to enjoy the beach, this morning allowed us enough time to enjoy breakfast by the pool at the Sheraton deli. After checking out from Sheraton, we headed to the airport.
Having arrived at the airport early, allowed us more time and chance to buy souvenirs. I bought the souvenir Mexico summer jacket and then got in the line for Delta boarding. With Atlanta, being our entry point into the U.S. this is where we needed to clear customs and immigration, which meant less time to catch our onward flight, barely made it.
My Personal Bits from my visit to Cancun: Old and new Mexico: A great difference b/n the old and new, between traditional past and the unpredictable future. Timeless Mexican images still exist, donkeys down dusty paths, and ancient ruins stand silhouetted against the sky. But not in Cancun – Cancun is an all-tourist island, glitzy malls offering upscale merchandise and world class hotels. The contrast, was most visible on our journey from Cancun to the Yucatan peninsula at the Chichen-Itza villages. The extremes of wealth and poverty seemed shocking, just 20 miles from Cancun's glittering stores were windowless, thatch-roofed with dirt floors. Rest of Mexico, is not like Cancun as we learn from the taxi driver, Mexico is a country where day to day survival means hardships as poverty is everywhere. Cancun is an immaculate state-of-the art island resort, a success story of the Mexican gov, hard to believe it was just a fishing village in the 70s, not even on the map. Gambling casinos are illegal in Mexico, but no shortage of nightclubs. Cancun is an upscale glittering city, where you dance till your feet can't take it anymore, and drink till your stomach can't handle anymore, safe all night, good and safe access by bus to any shopping area, ride the buses from any point to any point totally safe, friendly and helpful drivers, even provide change. Sitting outside of any restaurant you can see traditional dances, singers, providing a festive atmosphere, restaurant service is great. Streets are lined with beautiful upscale hotels, each built distinctly and has its own charm. Some decorated with statutes and fountains of historic significance. English is spoken in most places. American restaurants McDonalds, Planet Hollywood, Burger King are everywhere. Remnants of Aztec, Toltec and Mayan Civilizations are scattered throughout the country. Mexicans of Cancun are vibrant, energetic, friendly, ready for fun, ready to help the tourist and proud of their heritage and being Mexican. Locals take pride in keeping Cancun beautiful. Shopkeepers are friendly, flea market is just a name of the shopping mall (prices are not flea market price). Bargaining is a must, this time I had no energy to bargain, and was too afraid, my vocabulary limited to numbers 1-100, was afraid that in bargaining I might say I want it for 500 instead of 50!