Georgia May 2015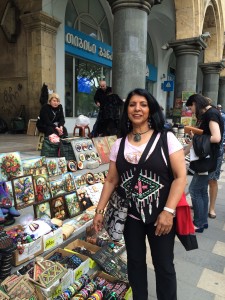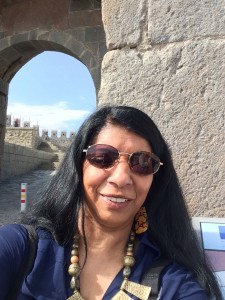 I travelled to Tbilisi, Georgia, with a group of 14 avid travelers, Volunteers and Staff of the American Councils for International Education, departing from Washington, D.C. via Munich, to Tbilisi. This was my second trip with this group, having travelled with them to Kosovo and Ukraine in 2013.
 
Quick Peek into Georgia: The country of Georgia, the size of West Virginia, is located at the eastern end of the Black Sea (Black Sea coast country) consisting of 5.4 million people. Oil flows through pipelines connecting to Baku on the Caspian Sea. Hugged by the Caucasus Mountains, between the Black Sea and Caspian Sea, it is known for hospitality, theater, music, painting, and literature and is considered to be the birthplace of wine. Wine production dates back to 8000 BC. Georgians have a unique ethnic heritage, unrelated to the major cultures and countries that surround it. There are theories that link Georgians to Basque, Corsican, and Northern Caucasian people. The Georgian language is in its own language group, unrelated to Indo-European or Semitic languages. Most Georgians identify themselves as Christians and belong to the Georgian Orthodox Church, with a minority of Russian Orthodox, Muslim, and Jewish people. Ethnically, Georgians make up the majority of the population, with Armenians, Russians, Azeris, Ossetians, and Abkhazians making up the minorities.
Pre-departure Briefings: In preparation for this 10-day trip, pre-departure briefings included an overview of the history, geography and culture of the country, by Ori Soles, author of the National Treasures of Georgia, and a briefing on Georgia's local customs by Georgian Flex alum. It soon became clear that we were headed to one of the world's most culturally matured countries with a history of 6,000 years, with art dating to the Neolithic age. Similar to my 2009 visit to Turkey, I would be travelling to a country, at crossroads between Europe and Asia, with Caspian Sea to its right, beyond which lie all of Asia, and Black Sea to its left, beyond which lie all of Europe, making Georgia a part of the global community. Briefings exposed the travelers to Georgia's history and culture, such as the country's espousal of Christianity as the state religion, in 337 AD, after Christ's crucifixion by Elias who by legend brought to Mtskheta Jesus's robe, made by St. Mary and the achievements of Queen Tamar, during her rein in 12th century, a time when poetry in Georgia reached its apex. It was through poetry that the Queen espoused religious tolerance, these ideas later became the main features of European Renaissance. Shota Rustaveli's national epic poem, The Knight in the Panther's Skin, was set in Islamic context, to honor a female king, Tamar, where the poet envisions human aspirations and capacity for fulfillment. We were introduced to the artwork of Georgian painter Nikko Pirosmani, whose famous artwork A Janitor we would see in Georgia's National Museum in Tbilisi.
These briefings quickly exposed me to important vocabulary, such as the Tamada, the toastmaster of meal ceremonies, madloba (thank you) and gamarjoba (hello). Even in the month of May we were to carry jackets and umbrellas. Georgia, being a wine country, local wine drinking customs were explained to us, such as there is no wine sipping, only chugging, and that we may be expected to drink wine using horn which will need to be placed upside down after finishing the wine. The only reason that one could be exempt from drinking wine, was if one was taking some medication, even then the host may suggest the person skip the medication for today. As guests, we were expected to give toasts. We are advised to not attempt to keep up with the wine drinking of our Georgian hosts, and that for us as guests, taking small sips during a toast would save us from offending the host. As hospitality is a fact of Georgian life, travelers could expect to be treated with respect and generosity. Other cultural tips included being aware of the relationship between younger and older people, local etiquette requires that younger person initiate a greeting with an older person and when taking flowers for a family, to not take an odd number of flowers, as odd number in a bouquet is associated with funerals. It is also considered bad luck to shake hands across the threshold of a door. In Orthodox churches women were to wear scarf and a skirt, fake skirts would be provided in churches. At dinner time, it was to be expected that our host may repeatedly want to offer us a certain dish, even after we had declined, we were to play the game and continue to say 'no thank you'.
It was good to learn that Georgia is much cheaper, compared to Russia and other Western European countries, however, once identified as Americans, we will be immediately associated with wealth, and vendors will attempt to overcharge us, but as the price of everything was negotiable, our bargaining skills could save us from being scammed. We were also warned of the number of gypsies in Tbilisi who will beg us for money, beginning with 5 Laris ($2.50). On the money exchange side, American Express Traveler's checks were not going to work well in Georgia, so we were advised to use the local ATM.
My Travels into Georgia:
Departing from Virginia's Dulles airport to Munich, Germany, covering a distance of 4,300 miles, in 8 hours, gave me time to catch up with sleep, after a busy academic semester. An additional 8 hours layover in Munich, allowed me to catch up with readings and meet other travelers. Flight from Munich to Tbilisi was a short 3 hour flight, covering a distance of 1,700 miles.
Welcome at the Georgia's Passport Control was interesting, after checking my passport, the officer returned it with a bottle of Georgian wine and greetings, 'welcome to Georgia'. Arrival into Tbilisi International airport, in the early morning meant being picked up by the American Councils staff around 3:00 am, and covering a distance of 11 miles on Kakheti highway, to arrive at Sharden Villa hotel, located in old town of Tbilisi.
Hotels Stay:
Sharden Villa (Tbilisi) was conveniently located near Narikala Fort, and a 15 minute walk to Rustaveli and Freedom Square (formerly Lenin Square), a place where the group would frequently return to during our stay in Tbilisi. The rooftop breakfast bar provided a panoramic view of the city of ancient ruins; however, its central location with noisy street with all night karaoke bars meant very disturbed sleep at night. Eating at the hotel's breakfast bar was our first opportunity to meet members of the group who had arrived Tbilisi a day earlier. After breakfast some of us ventured outside of the hotel in search of money exchange. Within a matter of minutes, just around the hotel corner, we were surrounded by gypsies, begging for money. Having successfully exchanged the US$ for Georgian Lari, we promptly returned to the hotel, going exchange rate was 2.25 Laris (100 tetris) for one US$.
Our next hotel, Lomsia Hotel (Akhaltsikhe) – was located in the historic Akhaltsikhe, walking distance to the Rabati castle. After a few days of visit to the mountains, we returned to Tbilisi, at Betsy's Hotel, overlooking the center of Tbilisi, with the same Georgian charm, however, Betsy's was located in a much quieter part of town than our previous Sharden Villa Hotel.
Georgia Trip at a Glance:
People of Georgia:
Arriving Tbilisi on May 12 early morning meant spending two full days at Sharden Villa Hotel, in the center of the city. Our initial stay in Tbilisi, took us to Narikala Fort, Turtle Lake, National and the City Museums, Ministry of IDPs and the Tserovani settlement camp. On May 14, travel to Akhaltsikhe with stops in Gori, visit to the Stalin Museum, and in Khashuri for dinner at alum's house, meant 3 full days at Lomsia hotel. From Akhaltsikhe, we travelled to Vardzia and Khertvisi Castle, with a stop at the school, run by the mother of a Flex alum, the young students performed the traditional Georgian dance, in preparation for their performance at the upcoming Youth Olympics. On way back to Tbilisi, we visited the Rabati Castle, Borjomi natural springs and lunched at alum's house at Borjomi. Arriving back in Tbilisi, the evening of May 16, meant 4-day stay at hotel Betsy's. This allowed us to visit the Gabriadze Marionette Theater, travel to Kazbegi, visit the monastery, picnic at Ananuri, and travel to Pasanauri for dinner. Travelling to Mtshketa, visiting Svetiskhoveli Cathedral, driving up to the Jvari Monastery and exploring Jvari were all covered on May 18; with free time in Tbilisi and an after dinner visit to Samebo Cathedral. Next day we headed to Telavi, from where we continued for Alaverdi Cathedral. No trip to Georgia is complete without a visit to the winery; afternoon of May 19 was reserved for travelling to Tsinandali and the wine tasting. Our last day of stay in Tbilisi allowed us time, to visit the Flea Market, travelling in the local metro. Farewell dinner was at Tsisvili restaurant, complemented by the professional Georgian dances. This 10-day trip to Georgia covering all the key monasteries, churches, Cathedrals, Basilicas, and Forts and eating Khinkhali (dumplings) Kachapuri (bread), Kababi (kababs) and Badrijani nigvzit (eggplant with walnuts), combined with the live Georgian dances made for an extraordinary experience. This trip was a unique opportunity to visit Georgia and experience its history, beauty and charm. The Flex alum students accompanied us on our daily tours and took great pride in sharing their culture and their country with us.
Tbilisi Sites:
Narikala Fortress: Our Tbilisi sites began with a visit to the Narikala Fortress, the stunning view of the crumbling ruins of this once great fort, could also be seen from the hotel's terrace restaurant. This ancient fortress overlooks Tbilisi, and the Kura River. Fort was established in 4th century, later expanded by King David the Builder (1089–1125), the Mongols renamed it Narin Qala (Little Fortress). With Eka, our Flex alum guide, we walked to the fort, located on top of a steep hill facing the Old Town. The fortress, of fantastic old ruins perched above Tbilisi, has two walled sections between the sulphur baths and the botanical gardens. The steep climb, without the guard rails was challenging, but the highest ruins provided a majestic view of Tbilisi for those who made it to the top. On the lower court we visited the restored St Nicholas church, replacing the one from the 13th church destroyed in a fire.
Mother Georgia: Symbol of the city, the statue of Mother Georgia (Mother of Kartli) is an impressive monument, erected on the top of Sololaki hill in 1958. This 65-feet aluminum figure of a woman symbolizes the Georgian national character, holding a bowl of wine in her left hand to greet those who come as friends and a sword in right for those who come as enemies.
Bridge of Peace: Walking distance from Sharden Villa hotel, this ultra-modern 490 ft long bow-shaped bridge, which opened in 2010, connects Old Tbilisi with the new district, crossing over the Kura River. The bridge designed by an Italian architect, resembles a marine animal with a curvy steel and glass canopy top shimmering under the sun. The roof is fitted with 1,208 LED lights, contrasting with the ancient ruins of the nearby Narikala Fortress.
American Councils Office: Part of our first day was spent at the American Councils Office, where the Orientation was followed by a warm reception, which included alums who shared stories of their innovative projects and future plans.
Turtle Lake: On day 1, after dinner walk at the Turtle Lake Park was good, but the rain required that we walk fast and take the closet shelter, this impressive 8-acre park contains cafes/restaurants, amusement areas, a weekend getaway for families.
National Museum: This 4-story museum near Freedom Square is organized by themes and provides a good lens into this old and historic country. The evidence of the oldest human existence in Eurasia is displayed together with magnificent Medieval Christian art. Objects from Neolithic ceramics of Bronze and Iron Age, gold and silver, as well as Greek and Roman jewelry could be seen. Most touching was the exhibit of the country's Soviet Occupation, explained through photos and videos.
City Museum: Tbilisi City Museum was founded in 1910, located at the edge of the bank of Kura river in a restored caravanserai, representing the city's historic role as a Silk road trading outpost.
Achiskhati: This is St. Mary Basilica, the oldest surviving church in Tbilisi; it belongs to the Georgian Orthodox Church, dating back to 6th century.
Gabriadze Marionette Theater: Located in the old part of Tbilisi, the theater works under the direction of Rezo Gabriadze, the interplay of life-size puppets with English subtitles made the play Marshal de Fanti's Diamond easy to understand and enjoyable. For more than 30 years Marionette Theatre performances have been popular around the world and have won numerous international awards. The play combined joy, sadness and beauty. Dinner at Café Gabriadze was a good spot, as it looked onto the ancient basilica and Rezo's clock tower.
Freedom Square: Located at the center of Tbilisi, at the eastern end of Rustaveli Avenue, this was an easy reach from Sharden Villa Hotel, although it required walking on the narrow cobblestone road, difficult on a rainy day, with cars parked along both sides. Branching out from this Square are: Rustaveli Av, Pushkin St., and Leselidze St.
Earlier the Square was named Erevan Square in honor of General Ivan Paskevich's victory in the battle near Erevan (now Yerevan) in the war against Iran (Russia-Iran war 1826-1828). Lenin was the ideological and real leader of 'socialist revolution' in 1917 and later coup d'état of Bolsheviks (October/November 1917) in Russia, subsequently the Square was named after him (Lenin Square), until it changed to Freedom Square after 1989 independence. In 1907, the square was the location for an audacious and bloody bank robbery, with the likely involvement of Joseph Stalin, which netted about 4 million US$. Square has been the site of many demonstrations, such as Georgia's independence from Soviet Union and Rose Revolution (2003). In 2005, this was the location where U.S. President G. W. Bush and Georgian President Mikhail Saakashvili addressed a crowd of 100,000 people in celebration of 60th anniversary marking the end of WW2. During this event, Georgian-Armenian Vladimir Arutyunian threw a live grenade at Pd Bush attempting to assassinate Bush. On north side of Freedom Square is an open space with a fountain and a bust of Alexander Pushkin. In the Soviet period, the Square had a statue of Vladimir Lenin, which was torn down in August 1991, and replaced in 2006, by Liberty Monument depicting St. George slaying the dragon.
Rustavelli Avenue: This is the central avenue in Tbilisi named after the medieval Georgian poet, Shota Rustaveli. The avenue starts at Freedom Square and extends for 1.5 km. It is the main thoroughfare of Tbilisi with government, public, cultural, and business buildings. Georgia National Museum, Freedom Square Metro and the Academy of Science are located on it. Visit to Freedom Square via Rustavelli Av was our most frequent visit as along the avenue are the many souvenir vendors.
Flea Market: This daily main marketplace was an easy reach from Hotel Betsy's via metro. The items sold in this two floor indoor market range from fruits and vegetables to TVs and furniture. We found decently prized jewelry comparable to that sold at the Freedom Square. This is an extremely crowded place and easy to get lost inside, we were not to lose sight of our alum guide, Ida. Surprisingly, the vendors allowed less bargaining here than those at Freedom Square.
Old Tbilisi: With our stay at the Sheridan Villa Hotel, walking around Old City was easy and fun, with old-style balconies, ancient churches, winding streets, some almost like the ones in Istanbul, and cafes and shops, both outdoors and indoors.
Ministry of Internally Displaced Persons from the Occupied Territories: I am grateful to the American Councils staff for securing an appointment, for me, with the Deputy Head, Medea Gugeshashvili, of the Ministry of IDPs. My travel to the Ministry and the IDP camp, on May 13 meant that I skip the visit to Gori and Stalin's house. Accompanied by Natia, of the American Councils, I had a productive meeting with, Deputy Head, who informed me of a range of IDP policies to secure durable solutions to those who fled from S. Ossetia. The Minister explained that the IDPs are now fully protected from eviction from their current accommodations under their legal ownership and that the Georgian law follows the U.N. concept of 'family unity right'. I was also told that the IDPs will be handed the Sports Complex built for the upcoming Youth Olympics in Tbilisi. Georgia has around 250,000 IDPs from Georgian–Abkhazian and Georgian–Ossetian conflicts, this number has increased by 26,000 due to 2008 Georgia-Russia conflict. The Ministry, headquartered in Tbilisi, was formed in 2010 as part of the Cabinet, and is headed by the minister, and four deputy ministers. Revised Georgian law on IDPs, came into effect in January 2014.
Tserovani Settlement Camp: Tserovani is the largest of the 38 settlements built by the Georgian government to house those who fled South Ossetia after the 2008 Georgia-Russia war, it houses about 2,000 families. It started out as a big settlement with simple houses, without yards or play areas. Over the years, infrastructure and the urban sphere have transformed this settlement area into a town, where families are growing vegetables and children are attending school. By walking around the settlement; I saw families selling homemade cheese, from the back of their cars, to other community members and engaging in other economic activities. The houses looked solid and equipped with water and electricity. The community has schools, shops and administrative buildings. At the settlement I visited a nonprofit, called For A Better Future, run by Nana Chkarevli this social enterprise program, engages the females in creating beautiful enamel jewelry, and embroidered table runners, the completed pieces are sent, for sale, to the National Museum's gift shop. I met 6 ladies who work with Nana. Nana also runs training programs to boost women's job skills. This engagement towards the betterment of the IDPs in general and women in particular is exemplary. Kristen Moses of the U.S. Peace Corp, who has been in Georgia for two years, took me to the U.S. Embassy's "Bookmobile," an old school bus now used as a traveling library. The bookmobile goes to different camps to offer kids exposure to English books and language.
My Travels beyond Tbilisi:
In addition to maximum stay in Tbilisi, our 10-day visit included visits to villages of: Akhaltsikhe, Gori, Khashuri, Vardzia, Kazbegi, Pasanauri, Mtshketa, Telavi and Tsinandali.
Gori (travelling from Tbilisi): Gori is a city in eastern Georgia, regional capital of Shida Kartli, 48 miles west of Tbilisi. This is the birthplace of the Soviet leader Joseph Stalin, and Alexander Nadiradze, the ballistic missile designer. The town was founded by King David IV (1089-1125) who settled refugees from Armenia here. Gori was an important military stronghold in Middle Ages and maintains a strategic importance due to its location connecting eastern and western Georgia. Strategically located at the crossroads of major transit routes, it was frequently targeted by foreign invaders, and changed its masters several times. By the end of 16th century, Gori passed to the Ottomans and became their major outpost in Georgia until being recovered by the Georgians after heavy fighting in 1599. It was garrisoned by the Persians under Shah Abbas in 1614. Gori is near the Georgian-Ossetian conflict zone and is connected to breakaway South Ossetia's capital Tskhinvali via a railroad spur which has been defunct since the early 1990s. It was occupied by Russian troops during the 2008 Russia/Georgia war (South Ossetian War). At that time, it came under aerial attack by the Russian Air Force, military targets and residential districts of Gori were hit by airstrikes, resulting in civilian injuries and deaths. Georgia has now increased military infrastructure in and around the city. On January 18, 2008, Georgia's second NATO base to accommodate the 1st Infantry Brigade of Georgian Ground Forces was established at Gori.
Gori – Stalin Museum: Stalin museum is in a complex where Stalin was born, the building houses his personal coach which he used for travelling to Tehran, Yalta and Potsdam. The Museum houses his study room of Kremlin and manuscripts and gifts from around the world.
Khashuri (travelling from Gori): This is a town in central Georgia, located on Shida Kartli plain on the Suramula riverside. Dodo, our Flex alum had arranged for our dinner at her house. This was a real treat as we witnessed the hospitality of local Georgian family and feasted on endless home-made local dishes. This was an evening to remember as we watched our host (Dodo's father, our tamada) toasting throughout the night, celebrating multiple events, such as 'toast to the ending of Russian occupation', 'toast to new American Friends' 'toast to grandparents' etc.
Akhaltsikhe (travelling from Khashuri): We travelled at night to Akhaltsikhe, a small city in Georgia's SW region. In 1576 the Ottomans took control of the city and during the Russo-Turkish War of 1828–1829, Russia captured the city and, and per the Treaty of Adrianople, it was ceded to the Russian Empire as part of first Kutaisi and then Tbilisi governorates.
Rabati Castle (Akhaltsikhe): Rabati castle is a medieval castle complex in Akhaltsikhe, built in 13th century, developed under the influence of different cultures over subsequent centuries as is reflected in its architecture. Within the 7-hectares castle complex there is a Church, a Mosque, a Minaret and a Synagogue. In the 13th-16th centuries the castle and the town of Akhaltsikhe were the residence of the Jakhely princes. During the following two centuries it was part of the Ottoman Empire and in 19th-20th centuries became part of the Russian Empire. In the Soviet period the closure of the border with Turkey isolated the town and resulted in the decline of its importance. Since the collapse of the Soviet Union, the changed geopolitical situation has given a new stimulus to the development of the town.
Vardzia (travelling from Akhaltsikhe): Khertvisi Castle (Vardzia): Vardzia is the cave monastery site in southern Georgia, excavated from slopes of the Erusheti Mountain on the left bank of the Mtkvari River. The Church of the Dormition, dating to 1180s during the golden age of Tamar and Rustavelli, has an important series of wall paintings. The site was largely abandoned after the Ottoman takeover in 16th century. About three hundred apartments and halls remain visitable and in some tunnels the old irrigation pipes still bring drinkable water. It is maintained by five monks, who still live in this mountain.
Khertvsi Fort (Vardzia): This is one of the oldest forts in Georgia and was functional throughout the Georgian feudal period; it was destroyed by Alexander the Great.
Borjomi (travelling from Akhaltsikhe): Borjomi, a resort town in south-central Georgia, is famous for Georgia's key export industry, the mineral water. Borjomi water, Georgia's national mineral water, is known in countries of the former Soviet Union, the bottling of mineral water is a major source of income for the area. Owing to the curative powers of the mineral springs, it is a frequent destination for people with health problems. Many group members tasted the spring water and filled their drinking bottles with it. Our afternoon was spent enjoying lunch at Flex alum, Natia's house.
Kazebgi (Stepanstsmind): Kazbegi is a town in the Mtskheta region, 98 miles to the north of Tbilisi, along the banks of River Terek, with an elevation of 5, 710 feet above sea level, known for its scenic location in the Greater Caucasus mountains. This was our closest reach to the Georgia/Russia border. Town was named after a Georgian Orthodox monk (Stephan), who constructed a hermitage at this location, which later became the Georgian Military Road. After the expansion of the Russian Empire into the Kingdom of Georgia in early 19th century, the locals revolted against Russian rule. However, the local lord Gabriel Chopikashvili, son of Kazi-Beg, remained loyal to Russia and suppressed the revolt. In return, he was promoted to officer in the Russian Army. He adopted the surname Kazbegi, and the village under his control was referred to as "Kazbegi". Gabriel Chopikashvili-Kazbegi's grandson was the famed Georgian writer Alexander Kazbegi, born in this town. In 2006, the town reverted to its original name Stepantsiminda. The town is dominated by large mountains on all sides, most notable is Mount Kazbek. Travelling on the Georgian Military Highway was one of the highlights of the trip, our bus driver, along with other motorists, had to share the road with the oncoming flocks of sheep. For centuries, this scenic route served as a link between Europe and Asia, today it connects Tbilisi to the Russian city of Vladikavkaz, in the North Ossetia region, and was only named "military" after Russia annexed Georgia to its territory in the 19th century. Local attractions include the Gergeti Trinity Church and Mount Kazbegi itself.
Ananuri: Ananuri is a castle complex on River Aragvi, 45 miles from Tbilisi, castle was the scene of numerous battles, complex has been on the list for inclusion into the UNESCO World Heritage. Ananuri is considered one of the most beautiful churches in the whole of Georgia, it provided us with the most stunning view of the snow-capped Caucasus mountains.
Georgia-Russia Friendship Memorial: Soviet-Georgian Friendship Memorial was built in the 1980s, to celebrate 200 years of Georgia/Russia friendship, Memorial is adorned with colorful murals depicting Georgian tradition, with Kazbegi Mountains in the back.
Gergeti Trinity Church: This was the climax of the trip to Ananuri; however, climbing the steep hills that take you to the top of the church were a challenge, some of us opted to reach the top by riding in our bus. Being so picturesque, some Indian filmmaker had come to Georgia, at this location, with his crew of 25 people and was shooting a Telugu movie. The movie's name translates to the word fence (border).
Pasanauri: A small town in Dusheti district, the location for our dinner on Sunday, May 17.
Mtshketa: Mtshketa, a city in Kartli province, 12 miles north of Tbilisi, former capital of the Kingdom of Iberia, is one of the oldest continuously inhabited cities in the world and is UNSESCO World Heritage.
Svetitshkoveli Cathedral (Mtshketa): This is a Georgian Orthodox cathedral in the historical town of Mtshketa, known as the burial site of Christ's mantle, site dates to early fourth century and is surrounded by legends associated with the early Christian traditions. The Cathedral was built on the grave of Elias' sister Sydonia who died holding Jesus's robe. Cathedral was damaged by invasion of Arabs, Persians, Timur, and latter during Russian subjugation and the Soviet period. According to Georgian hagiography, in the 1st century AD a Georgian Jew from Mtskheta named Elias was in Jerusalem when Jesus was crucified. Elias bought Jesus' robe from a Roman soldier at Golgotha and brought it back to Georgia, now placed in this Cathedral.
Jvari Monastery (Mtshketa): This is a 6th century Georgian Orthodox monastery near Mtshketa, Monastery stands on the rocky mountaintop at the confluence of the Mtkvari and Aragvi rivers, overlooking the town of Mtshketa. Along with other historic structures of Mtskheta, it is listed as UNESCO World Heritage. In the early 4th century, on this location, Saint Nino, a female evangelist had converted King Miriam III of Iberia to Christianity, and had erected a large wooden cross on the site of a pagan temple. The cross supposedly worked miracles and drew pilgrims from all over the Caucasus. A small church was erected over the remnants of the wooden cross.
Telavi: Telavi is the main city and administrative center o Kakheti region, located in foot-hills of Tsiv-Gombori Range, 60 miles east of Tbilisi.
Tsinandali: Village in Kakheti, 49 miles east of Tbilisi, is noted for estate and its winery which belonged to the aristocratic poet Alexander Chavchavadze (1786-1846), the first landowner to bring European landscape designers into Georgia. He was a writer, military leader, diplomat, public figure and an inventor. He gained respect in Georgia and throughout the Russian Empire. He was the god-son of Catherine II of Russia, and he spent his childhood in Russian noble circles. There, he was exposed to innovations brought from Europe or discovered in Russia. As a military leader he participated in every important military expedition, in 1813-1815 he fought against Napoleon's Army. He was also the first Georgian noble to produce and bottle Georgian wine according to European methods. His vineyard is still cultivated to this day. As visitors we could see the bottle of Saperavi wine from 1839, the first harvest at Tsinandali, there were also 16,000 bottles of other sorts of wines. Group members enjoyed the wine tasting. Tsinandali garden has an interesting layout, with European, Asian and American exotic plants. In 1887 famous landscape designer Arnold Ragel was invited from St Petersburg to renovate the park. It occupies 18 hectares of land, with a beautiful and gigantic wishing tree, adorned with ribbons and laces tied to the branches by those making wishes.
Alaverdi Cathedral: While parts of the monastery date back to 6th century, the present cathedral was built in 11th century; this is the highest cathedral in Georgia, dominating the surrounding landscape in a fertile river valley against the backdrop of the Caucasus Mountains. The monastery was founded by the Assyrian monk who came from Antioch and settled in Alaverdi. Situated in the heart of the world's oldest wine region, the monks make their own wine, at the Alaverdi Monastery Cellar. An area enclosed by a fortified wall contains dwelling houses, the refectory of the monastery, wine cellars and baths. It is UNESCO world heritage.
Visit to a Local School: We visited a school that is run by the mother of Flex alum and is used as Flex recruitment site, the school administrator had arranged for us to see the students' dress rehearsal in preparation for the upcoming Youth Olympics. Witnessing the Georgian dances by school children was an amazing treat, the costumes, the music and the dance movements were priceless.
Foods of Georgia:
Whether in Tbilisi, Akhaltsikhe, Kazbegi, or Telavi, our meals were always at premium restaurants or at local homes, with regional charm and hospitality, where every meal was a celebration. Georgians are renowned for their hospitality, and indulge their guests in tasteful cuisine, complemented with local/regional wines. Among countries of the former Soviet Union, Georgian cuisine is the most exotic and flavorful. The Georgians pride on their cuisine, and were eager for us to try their national dishes. Most dishes center around meat and Georgia, being a wine country, our hosts engaged us in drinking wine and making toasts. Rice was not a popular dish and selection of vegetarian dishes was limited. In some restaurants they also did not provide any milk, for coffee. At one of the restaurants, we were told that they did not have any cooking gas that day, so no food (including beans) could be cooked; they were only able to grill meat, so that day's lunch for me was cucumber and tomatoes. The culture required that we not finish everything on our plate even in a restaurant, where the leftovers from the customer's plates are used by the waiters or sent to homeless shelters.
Some of group favorite dishes were: Khinkali – dumpling filled with meat, potatoes, and mushrooms. Etiquette required not eating the doughy pinched part (considered rude and cheap), the ends are used to hold up the khinkali and eating it from the bottom (ensuring to catch all the gravy from the dumpling). The pinched part is also used to keep count of how many khinkali are eaten by a person. Pkhali – Vegetable paste topped with pomegranate seeds. Kachapuri – circular bread filled with cheese (tasted and looked like pizza without the sauce), this could be the main dish for the vegetarians. Kababi – seasoned meat grilled on a skewer. Badrijani nigvzit, eggplant dish with walnut paste. Breakfast at Lomsia hotel introduced us to yogurt served in small clay pots and Lobio (red beans simmered in sweet sauce).
Wine culture: Wine is king in Georgia, Georgia is the cradle of wine making, where wine production first began, 7000 years ago, and country grows 521 varieties of grape. After wines are made, they are stored in clay containers, to add to the uniqueness of the flavors. Archaeological remains suggest that as early as 4000 BC grape juice was being placed in underground clay jars, to ferment during the winter. At wine tasting in Tsindali, group members purchased Chacha, the Georgian grape vodka. The vine is central to Georgian culture, linked to their religious heritage. Feasting and toasting are symbols of Georgian culture, where guest meals are presided over by a toastmaster (Tamada), who proposes toasts throughout the meal, and ensures the wine flows liberally. Georgians never drink without a toast and toasts are taken very seriously, sometimes lasting for 20 minutes. Toasts are in honor of the guests. Clinking glasses with anything other than wine or spirits (vodka, whiskey, chacha) is unthinkable and offering a toast with beer is considered offensive. The toastmaster is expected to drink at every toast, but it is considered to be disgraceful for the tamada to become drunk. There is tremendous pressure on the guests to join in the drinking. We were advised in order to politely excuse ourself from drinking, we could say, that we are on medication. It is common for Georgians to grow their own grapes and produce wine. Many alums talked of their vineyards, where their families produce 2 tons of wine, annually for consumption and gifting. The weather is well suited for viticulture, with mountains around the vineyards full of natural springs. Georgian wines have a reputation for being exceptionally pure. Georgia's wines fall into several zones: Kakheti and Kartli in the east, and, Ajaria and Abkhazia in the west, the most important of these is Kakheti, which produces 70% of all Georgian wine.
Group Meals: Lunch at Shemoikhede: This fine restaurant across from our hotel, was our introduction to the local Georgian food, local food is heavy on the meat and stringent on vegetables. The restaurant had tasty khachapuri,(with fried egg) khinkali and qababi. Gabridze café: This is part of the marionettes theatre, with a decorated interior, and beautiful surroundings. Tabla: This was a high end restaurant located near the American Councils at Chavchavadze Av, a great place for group dinner. The very delicious cucumbers and tomatoes were a hit at our table as well as the badrijani nigvzit, Georgian eggplant dish made with walnut paste, I became totally addicted to it. Samikitno: Located on Freedom Square near the National Museum, was a good place to eat after touring the museum. Funicular Restaurant: Located high above Tbilisi, this stylish restaurant had a spectacular view of Tbilisi from an all around balcony. Lunch at alum's house (Borjomi): Natia, the Flex alum had organized the group lunch at her family home in Borjomi. As usual, the Georgian hospitality was visible and regional dishes were abundant. Picnic at the Erusheti Mountain: It was wonderful to have picnic, in the mountains. Preparations required a stop at a local grocery store to purchase the food items, which allowed group members to shop for their own souvenirs. Dinner at 'Tsiskvili': This high class restaurant was selected by the Director of the American Councils as a fitting place for our farewell dinner. This beautiful restaurant with stone decor was located on the side of the high river embankment with a stream running through the compound. The spectacular and colorful waterfall added to the ambience of the place. The food, the décor as well as the professional dancers and live music were a very special treat for our last night in Georgia.
Souvenirs from Georgia:
Souvenir fridge magnets with wine bottles, grapes and dumplings that looked like white garlic cloves were easily available. Jewelry at the flea market was a bargain. I found the souvenir shot glass and the wine horn at Kazbegi mountain shops, while the Georgian music CD was purchased at Khashuri. My fellow traveler, who spoke fluent Russian, helped me to find Russian Vodka and negotiated a good prize. I used the wine bottle that was gifted to us at the Passport Control, as my wine souvenir from Georgia. My exposure to Georgia provided me with a right balance with the everyday life and the exotic.